Gender Affirming Care
Emory is committed to providing a welcoming and supportive space where everyone is valued in their entirety. This includes any member of our community who identifies as transgender, non-binary or gender nonconforming.
The infographic below walks you through the process of receiving gender affirming care at Counseling and Psychological Services. (Click here or on image to enlarge.)
Please note that gender affirming surgeries (GAS) and gender affirming hormone therapy (GAHT)  may only be available to students 18 or older due to legal restrictions.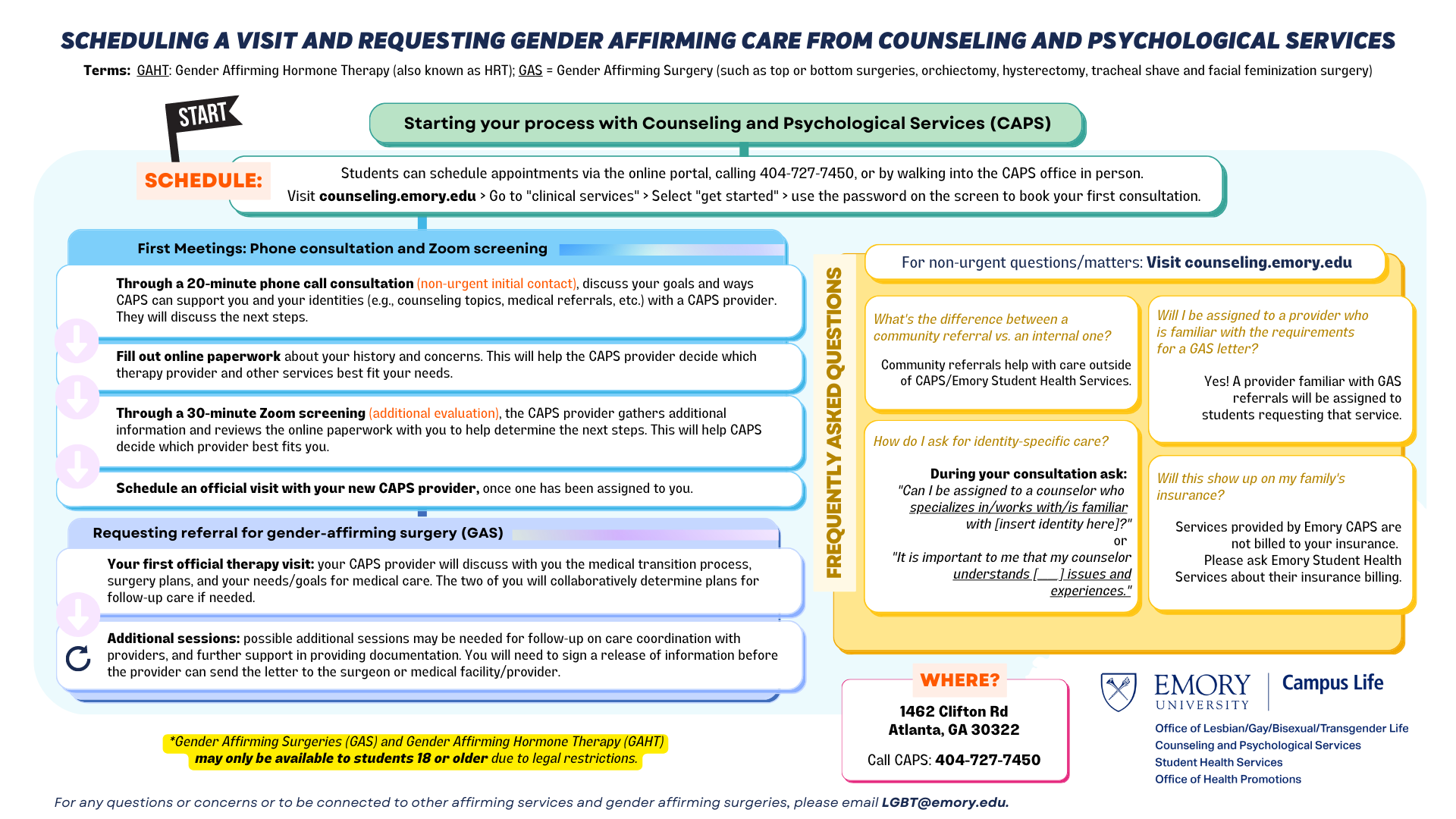 If you are a student seeking gender affirming care at CAPS, call our office (404-727-7450) or use our online scheduling software (password 445566) to arrange a 20-minute initial phone consultation with a CAPS provider. Same-day appointments are typically available. During this 20-minute initial phone consultation, the CAPS provider will gather basic information about your needs and help you determine next steps.
If the initial phone consultation indicates an internal referral to CAPS, you will be scheduled for a 30-minute initial screening, typically within a week of the phone consultation.
To prepare for the screening, we will ask that you complete online paperwork about your history and concerns.
During the initial screening (currently offered via telehealth), the CAPS provider will gather additional informational and review the online paperwork to determine follow up.
After the initial screening, you may choose to proceed with CAPS or pursue a community referral. If you opt for an internal referral, you will be assigned to a CAPS provider for an initial therapy appointment.
During the initial therapy appointment, you and your provider will begin exploring the medical transition process, start discussing surgery plans, assess need/goals for medical care, and collaboratively determine suggestions for follow-up care if clinically indicated. 
Additional sessions may be required for follow up, care coordination, and further support in providing documentation. You will need to sign a release of information before we can send the letter to the surgeon or medical facility/provider.
We can continue to offer ongoing support or provide community resources or referrals for ongoing care.
As always, if you are experiencing a mental health emergency, please visit CAPS immediately or call 404-727-7450 and ask to speak with the crisis counselor on call.
Contact and Hours of Operation
Address: 1462 Clifton Road, Suite 235, Atlanta, GA 30322
Phone: (404) 727-7450
Fax: (404) 727-2906
Crisis Consultation: Call (404) 727-7450, 8:30-5:00, Monday-Friday
Hours of Operation: 8:30-5:00, Monday-Friday
PLEASE NOTE: If Emory University is closed due to weather or other emergency, then CAPS is also closed. In such circumstances, students will be contacted to reschedule appointments once the university reopens.