Alcohol and Other Drugs
 There are many reasons that some of us find ourselves in an unhealthy relationship with substances such as alcohol, marijuana, or non-prescribed stimulants (e.g., Adderall). For some of us, substances are a way to "cope" with pressures from college, such as social or academic stress. For others of us, substances become unhealthy ways to "cope" with difficult feelings brought up from past traumas or complicated relationships.   If you find yourself wondering if your relationship with alcohol or other drugs is concerning or others have told you that your relationship with alcohol or other drugs is concerning, you are not alone – there are many resources, including CAPS, that can help you navigate these concerns.
Signs you might be struggling with Alcohol or Other Drug Use
If you are struggling with alcohol or drug use, a part of you may reading this and thinking, "Nothing is wrong. I don't have a problem. Why am I even reading this," while another part of you might be saying, "I'm afraid to know that I have a problem." That internal battle is common when you are having an unhealthy relationship with alcohol or other drugs.
There are many warning signs when you are struggling with substance use, many of which are specific to your drug of choice. However, here are a few that might indicate that it would be helpful to talk to a mental health professional:
Needs drugs to have a good time or cope
Loss of interest in things that are important to you such as friends, academics, work, or hobbies
Withdrawing from friends or social activities
Seeing drugs as the solution, not the problem
Taking the drug in larger amounts or over a longer time
Being preoccupied with getting drugs
Feeling anxious, grouchy, depressed
Having mood swings
Having problems at school, work, or at home
Having trouble with relationships
Lies about drug use
Taking part in dangerous behavior such as driving while drunk
Sleep problems
Needing more drugs for the same effect
Weight loss or weight gain
Physical withdrawal symptoms when not taking the drug
I was wondering about softening the language here since we do work with students who struggle with AOD.
It can be hard to know what to say when you think a friend or loved one is struggling with substance use. Here are some basic tips for how to talk to a friend or loved one you are concerned about: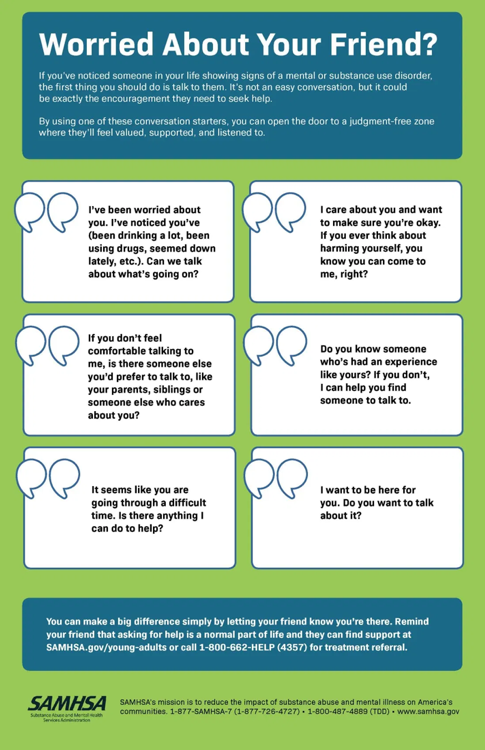 It might be helpful to use the following guide when expressing concern:
Situation – Describe the situation that concerned you: "This morning I noticed that you missed your exam."
Behavior – Describe the specific behavior that was concerning: "You were hung over and didn't hear your alarm."
Impact – Share your feelings and concerns: "I'm worried about you."
You can let you friend know about resources that are available to them, such as CAPS. Remember, you can let your friend know that you are concerned about them, but it is not your responsibility to "fix" them. Having good boundaries and letting your friend or loved one know what is ok with you and not ok is important (e.g. "I'm happy to have a conversation with you about your break-up, but I won't have that conversation when you are drinking.") If you are concerned about a friend or loved one, you can call CAPS [link to part of website that describes our consultation services] and ask to speak to a counselor on call for help navigating this challenging situation.
If you have found yourself on a path to recovery and sobriety, you probably know the challenges and rewards of this journey. Whether your journey is towards abstinence or harm reduction having a plan that supports your journey is especially important during college. Here are some helpful tips that may support your journey towards sobriety:
Locate roommates and housing option that supports your sobriety. This might involve living with others who also don't engage in substance use.
Connect to mutual aid groups such as ReStart - Emory's Collegiate Recovery Community or Alcoholics Anonymous
Find healthy ways to manage your stress
Find friends that have interests beyond engaging in substance use together and cultivate hobbies. For example, you can join one of Emory's many organizations
Stay connected to a mental health provider. Our staff at CAPS are more than happy to help you find a
long-term provider
, if needed.
On-campus Resources
Office of Health Promotion
Alcohol and other drug education, use/misuse reduction and prevention, risk management consultations, Emory's recovery program and substance use counseling.
Human Resources – Tobacco Cessation Resources
ReStart - Emory's Collegiate Recovery Community
Provides support and activities for Emory students who are struggling with or are in recovery from alcohol/drug/process addictions.
Off-campus Resources
Alcoholics Anonymous
"International fellowship of men and women who have had a drinking problem. Nonprofessional, self-supporting, multiracial, apolitical, and available almost everywhere. Membership is open to anyone who wants to do something about his or her drinking problem."
Al-Anon
Mutual support program for people whose lives have been affected by someone else's drinking.
Centers for Disease Control and Prevention Alcohol Portal
Information about binge drinking, drinking and driving, underage drinking, and alcohol and pregnancy.
Centers for Disease Control and Prevention Opioid Overdose information
Centers for Disease Control and Prevention Smoking & Tobacco Use information
FindTreatment.Gov
Directory of state-licensed providers who specialize in treating substance use disorders, addiction, and mental illness.
Georgia Tobacco Quit Line: 1-877-270-STOP (877-270-7867)
Free, evidence-based public health service available to help Georgians quit smoking, vaping and stop using all forms of tobacco products.
Narcotics Anonymous
"Nonprofit fellowship / society of men and women for whom drugs have become a major problem. Global, community-based organization with a multilingual and multicultural membership."
National Institute on Drug Abuse
The lead federal agency supporting scientific research on drug use and its consequences.
SAMHSA
The Substance Abuse and Mental Health Services Administration (SAMHSA) is the agency within the U.S. Department of Health and Human Services that leads public health efforts to advance the behavioral health of the nation. Its mission is to reduce the impact of substance abuse and mental illness on America's communities.
SAMHSA's National Helpline: 1-800-662-HELP (4357)
Confidential, free, 24/7, information service for individuals and family members facing mental and/or substance use disorders. Available in English and in Spanish. Provides referrals to local treatment facilities, support groups, and community-based organizations.
Contact and Hours of Operation
Address: 1462 Clifton Road, Suite 235, Atlanta, GA 30322
Phone: (404) 727-7450
Fax: (404) 727-2906
Crisis Consultation: Call (404) 727-7450, 8:30-3:30, Monday-Friday
Hours of Operation: 8:30-5:00, Monday-Friday
PLEASE NOTE: If Emory University is closed due to weather or other emergency, then CAPS is also closed. In such circumstances, students will be contacted to reschedule appointments once the university reopens.